Dental Care You Can Trust in Upland, CA
If you are looking for a family dentist in and around Upland, CA, trust the office of Robin Su DDS for all of your dental needs. With experience blended with compassion, our dedicated team will maximize your oral health while also providing you with a comfortable experience from start to finish.
Our office offers the latest dental services, utilizing state-of-the-art technology, techniques, and advanced care in order to deliver satisfactory results.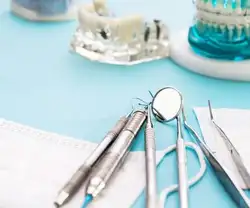 Robin Su DDS takes a personalized approach to dental care. We create a customized plan for each patient, ensuring their specific needs are taken care of.
Offering a wide range of quality services to patients of all ages, our team will go above and beyond to make you feel comfortable and at ease throughout your visit.
As a local dentist in Upland, CA, we see patients as part of our family. Whether you need a routine cleaning, dentures, teeth whitening, or anything in between, we have the skills and resources to provide top-notch, stress-free care in a warm, welcoming, and positive environment that will keep you smiling.
---
Your Dental Health is Our #1 Priority
Whether you're 2 or 102, your dental health is our top priority. You can count on us to achieve a healthy, beautiful smile.